Great Taste Trail Grand Experience
6 Days 5 Nights Self-Guided 175 km
Day one Nelson to Mapua (Grade one) 26 km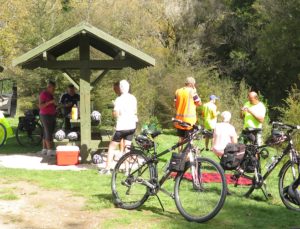 You will be fitted to your cycle & issued accessories and receive a briefing plus written guide notes & Maps
Your ride starts at Nelson Airport, and today is about lots of experiences during your leisurely 26 km cycle on the Great Taste Trail through to Mapua (about 2 hours cycling) so we suggest planning to be on the way by 1030. Your only time constraint is the scheduled last sailing for the day of the Mapua ferry.
On the way visit medal winning wineries, cafes, restaurants, taste some cheeses at the regional specialty tastes deli shop, visit a glass blowing studio, indulge in scrumptious real berry fruit ice-creams, swim at a pristine white sand beach, enjoy beautiful wetlands. Perhaps wine-tasting and lunch among the vines at Nelson's oldest vineyard estate. There's something for everyone.
Cross from Rabbit Island to Mapua on the bike ferry
Stay overnight at a delightful B&B in Mapua
Dinner – own arrangements
Mapua to Kaiteriteri (Grade two and three) 38 – 42 km
Today you have a choice of routes. You can cycle on the Great Taste Trail (GTT) from Mapua to Kaiteriteri (49 km) at times following the scenic coastline, at others viewing it from the heights, skirting the fishing township of Motueka, commercial heart of this fruit growing region. Or, alternatively, you can leave the Great Taste Trail and ride on quiet back country roads through the gentle rolling wine country of the Moutere with opportunities to stop for wine tastings, art and some historic spots including NZ's oldest pub.
Lots of quirky places to enjoy refreshment stops along the way, including community enterprises, great cafes, yummy berry ice-creams, award -winning pies, artisan beer tastings and more.
You will cycle past citrus orchards, vineyards, through apple and kiwifruit orchards and hops, finishing up with a short ride through the bush on a very easy mountain bike trail into Kaiteriteri.
Stay in a beautiful Eco Resort situated in a tranquil bush setting overlooking Kaiteriteri Bay for 2 nights. B&B Basis
Day Three
Optional leisure day to explore the beautiful adventure playground of the Abel Tasman (National Park) – by kayak or cruise or one of many cruise combo options available including a walk out on a section of the World-famous Abel Tasman Great Walk or you can just laze on the golden beach and swim in the sparkling azure waters of the bay. (Just talk to our helpful staff about booking a cruise)
To cycle or not to cycle? if you do want to cycle, head for Marahau (8km) and from there you can walk out onto the Abel Tasman track.
Day Four and Five (Grade two) The Motueka and Baton River Valleys (39 – 72 km 3-5 hours)
Depending on availability of accommodation you will be either cycling to Woodstock/Baton (39 km) and then Day 5 takes you to Tapawera (32 km) through the Motueka and Baton River Valleys, or
you will head from Kaiteriteri direct to Tapawera (58 – 72 km) on Day Four and on Day 5 you will cycle from Tapawera to Wakefield (33 km)
For the first part of Day 4 you are cycling along the scenic tree-lined Westbank of the Motueka river, set in all the grandeur of the Kahurangi National Park. There are multiple opportunities for refreshing river swims in the inviting waters of the Motueka and Baton rivers, and a stop at the only winery/café on this section of the trail.
Accommodation at Baton in a charming Country Escape in idyllic surroundings where you will be provided with dinner and breakfast, or
you will continue cycling through the simply stunning rolling hills of the valley and its beautiful pastoral scenes as far as Tapawera and then relax at your very special B&B set in a unique Sculpture Garden where dinner and breakfast are included.
Day Five (Grade three) Great TasteTrail Section Tapawera to Wakefield 33 km 2-3 hours
Your highlight today is the cycle through Spooners Tunnel, which at almost 1.5 km long is the longest disused rail tunnel available for cycling in the southern hemisphere. From the tunnel the trail is a 10 km downhill blast. Then you are cycling alongside the Waiti stream until just before you reach your destination of Wakefield and your delightful B&B.
This section is the first part of Day 6 if you stayed at Baton then at Tapawera on days 4 and 5. Then you continue from Wakefield to Nelson Airport at total of 52 km
Day Six (grade 1-2) 19 km on cycle trail 1-2 hours
The last part of the Great Taste Trial is an easy cycle through the villages of Wakefield and Brightwater riding through the vineyards, past cafes.  Take a last opportunity to do some tastings at award winning wineries and boutique breweries. Enjoy a lazy winery lunch or an artisan beer tasting with pizza before arriving back at Nelson Airport.
Price per person incl GST (min 2 persons) and choice of Optional Extras:
Basic Tour Price : $1365
Tour with luggage transfers included $1925 (2 persons)
Tour with luggage transfers included $1645 (4 or more persons)
Ebike supplement $350
Single supplement applies
Subject to accommodation availability
Ask about our seasonal Specials!
Tour includes:
Standard Cycle hire, (including locking cable, pump and puncture repair kit), panniers, hi vis vest
5 nights B&B accommodation
2 breakfasts
2 dinners
Transfer to Tapawera


Price per person incl GST (minimum 2 persons, share twin) and choice of Optional Extras:
Basic Tour Price : $955 (Subject to accommodation availability ). Single Supplement applies
Tour Including luggage transfers 2 person minimum $1400
Tour including luggage transfers 4 person minimum $1180
Upgrade to E Bike  $225