The Moutere Hills Wine & Food Spectacular ebike Tour
Available daily from mid September to mid May, and weekends and school holidays only from mid May to mid September
This supported E Bike full day Tour starts at Nelson Airport and ends 35Km later at the Moutere Hills Winery. There you and your friends can sample the wines and indulge in a Gourmet Lunch before being transferred back to Nelson by our Courtesy Van.
You will have a morning start, (recommended between 0830 -0900), at our Airport Base and during your ride you will:
Ride on the Great Taste Trail along the scenic Coastal cycle route to Rabbit Island through the Waimea Estuary and wetlands, across the Waimea River on a swing bridge
Follow the Great Taste Trail through the Pine Forests of Rabbit Island with its pristine white sands and beautiful beach to meet the Ferry to take you across the inlet to Mapua township.
Cycle through Mapua Village (perhaps take time for a coffee, ice-cream, wine tasting or other refreshment before heading for the Moutere Hills). From here you leave the Great Taste Trail and are riding on quiet back country roads. Your E Bike will ensure a pleasurable ride along the ridgelines so you can enjoy the spectacular views in every direction.
Riding to Old Sarau Village and visiting Heaphy and Gravity Wineries along the way to check out their latest vintage.
Then it is time to take a brief ride to Moutere Hills Winery where you can indulge yourselves in the finest cuisine at Forster's Restaurant
Please note that Forsters are closed on Mondays throughout the year however Wine Tastings and Platters and other great food can be enjoyed at both Gravity Winery and Heaphy Winery and excellent meals are also available at the old Moutere Inn, NZ's oldest pub.
Note: During the winter season, May to October, this tour is only available on Saturday and Sunday and during school holidays.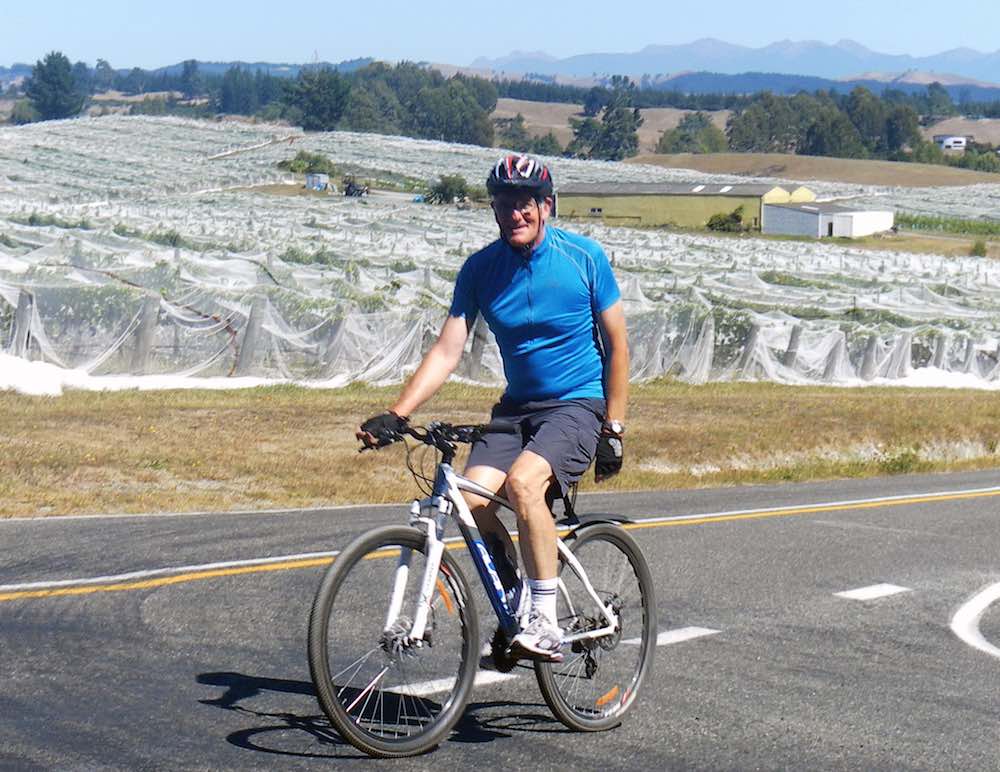 For this E Bike Excursion your tour package will include:
A super comfortable E Bike for your riding pleasure
Helmet, Repair Kit, Pump and security lock, Hi-Vis Vest
One wine tasting
Trail maps and a briefing
Complimentary Parking and storage of excess baggage at our Office
Pick up at the Moutere Hills Winery and return to Nelson at a pre-arranged time
Note: The Tour Package does not include food and beverages consumed on the ride, other than as specified.
Minimum number for a tour is two persons, maximum is 8. Please contact us if there is a requirement to accommodate larger parties.
Price for 2 persons: $210 per person
Price for 3 or more persons: $185 per person
Ask about our seasonal specials!
Book here
What previous customers have said about our one day tours
Highly recommend Nelson Cycle Hire
Thanks so much for an awesome day out on the trails. Highly recommend Nelson Cycle Hire – excellent communication and Tess was super helpful with our changing plans, including flexible pickup and dropoff which was greatly appreciated! Will definitely use these guys again, thanks heaps. Thanks again, especially for the drop off, we had the Read more "Highly recommend Nelson Cycle Hire"
Vic
One Day Tour
That was an amazing ride
That was an amazing ride, thank you for the bikes, they were great! The wind was fine (we lived in Dunedin for 2 years so that was a light breeze😅 compared to what we are used too!). We will definitely recommend you to others travelling your way and use you guys for our next adventure.
Felicity, Greg, Oli and Neave
One Day Tour
We had a wonderful time!
We had a wonderful time! Got loads of great photos. Thank you for all of your help with everything!
Melissa Gentle
One Day Tour
We had great experience biking
We had great experience biking there at Nelson. You're Mapua trail were biker friendly. The view is majestic and exciting. One of our best bike ride so far.
Flor
One Day Tour
Thank you both for doing what you do so well
We truly were impressed at the way our trip was managed from enquiry, planning to execution – going well beyond expectations to ensure our visit to Nelson was an experience to remember. Loved JRs wit and humor! Thank you both for doing what you do so well and yes it was a shame we missed Read more "Thank you both for doing what you do so well"
Heather Borland
GTT, One Day Tour
We had an enjoyable trip and think that your company provides outstanding service.
Nelson I-Site
One Day Tour
Great bikes and panniers
Jane and Bob and 6 friends!! - April 2018
Group, One Day Tour
Bikes were fabulous and the whole day seamless
Anne and Mark - March 2018
Couples, GTT, One Day Tour
Wonderful bike trip on Tasman's Great Taste Trail
Many thanks Anita, Because of your kindly help and good arrangement, we have a wonderful bike trip on Tasman's Great Taste Trail.  We do appreciate!
Charlie and Jane
Couples, One Day Tour
Fantastic experience, Fabulous Day Trip
Elma
Couples, One Day Tour
Great Service and Good Bikes
Simon
Bike Hire, GTT, One Day Tour
Great Location and Friendly Staff
Dagy
Group, One Day Tour